Exploring Worldwide Democratic Innovations
In 2019, the European Partnership for Democracy and Carnegie Europe joined forces to establish the European Democracy Hub. The Hub is a focal point for work on democracy, bringing together analysts and policymakers engaged with EU democracy support and democratic challenges in Europe to produce a series of resources made available to the large audience.
Within the project "Exploring Democratic Innovations", EPD and Carnegie will jointly conduct a cross-country study of innovative forms of deliberative and participatory democracy around the world. The objective is to explore forms of participation that are different from innovations in the West and that may help inspire ideas for reform for European states.
Explore the project on the European Democracy Hub website.
---
Ghana
This case study on Ghana puts political parties under investigative lens, exploring how the country's two main political parties have risen to prominence by innovating their structures. The most impactful innovation has been taking place at the heart of political institutions, through the decentralisation of political parties and their rejuvenation through incorporating grassroots voices into the party structure. Much of Ghana's thriving democracy is rooted in its active citizenship and democratic debate that happens on the background of an animated political party membership.
Malawi
Two different innovations implemented at the local level were explored for Malawi: the Citizen Juries and the Local Governance Barometer process used for assessing performance in different policy areas. Citizen Juries had an effective role in bettering Citizen Development Funds, by providing input and oversight over the projects implemented. The Local Governance Barometer process highlights the importance of identifying the right stakeholders and ensuring that the deliberative process is inclusive and representative, for the success of participatory and deliberative democratic innovations.
Nigeria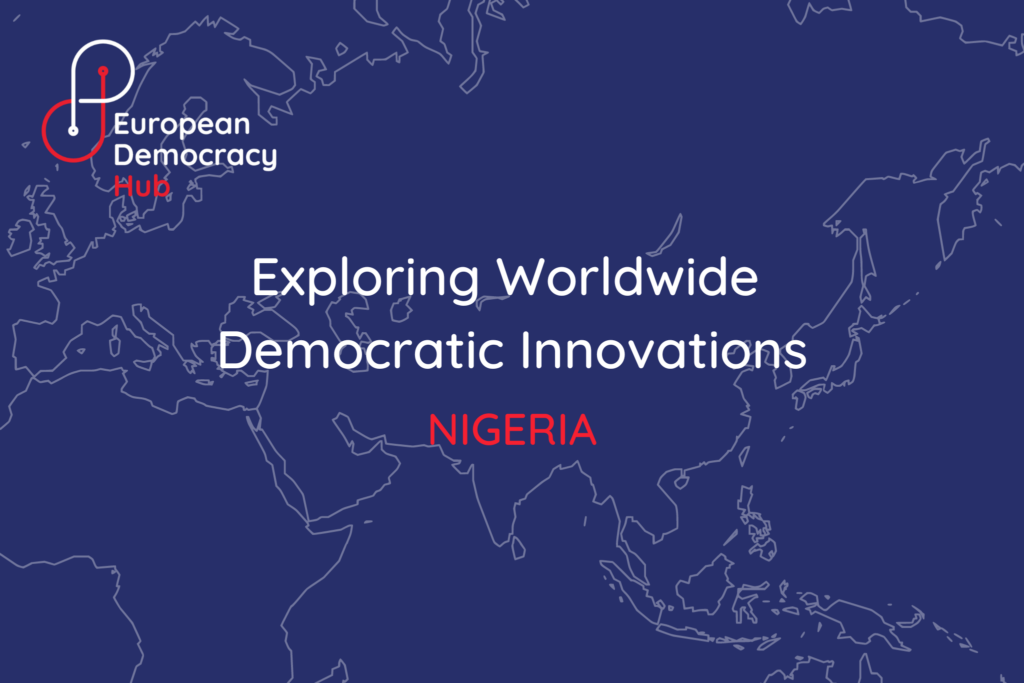 In Nigeria, democratic innovations have been applied as a means to counter political apathy, enhance citizen participation and make government more responsive. Two locally-led and applied innovations are the Open Forum and the implementation of the OGP process, both functioning as a means for citizen input into government policy. The last innovation presented is the Option 4A, which is an innovative open ballot voting system that some parties now use in their primaries to select grassroots candidates.
---
India
This case study looks at democratic innovations in what was once considered as the world's largest democracy. The case study addresses two different democratic innovations. One innovation consists in the "little parliament" or Gram Sabha, which brings political participation and decision-making down to the smallest administrative unit – village level and can be considered as one of the most radical exercises in direct democracy globally. The other innovation analysed in the report is the Social Audit. This is carried out through a jan sunwai ( a public hearing) and acts as a mechanism through which citizens can organise and mobilise to evaluate the government's performance in a particular policy area.
South Korea
This case study explores the innovation of Gwanghwamoon 1st Street, an initiative by the President's administration to get citizen's ideas, opinions and suggestions on policies directly through an online platform. Next, it dives into the contest held by Icheon City for citizens to propose social distancing measures in 2020, which were then implemented at city-level. Finally, the research dives into the deliberative polling exercise to decide on Korean nuclear energy policy, leveraging a debate between randomly selected citizens and a nation-wide poll to make a difficult and controversial policy decision.
Taiwan
This case study shares insights from Taiwan's civic tech and gov tech experiences, showing how civic tech transitioned from oppositional politics to a more institutionally anchored role in facilitating inclusive decision-making in Taiwan. The research dives into g0v, a community of hackers and people from the open source community who have launched various initiatives to overcome the information asymmetry with government and crowdsource knowledge from citizens. It shows the path of institutionalisation of civic tech into gov tech, and its usage in policy deliberation under the vTaiwan platform. A must-read for civic tech and democracy nerds!
---
Georgia
The Georgian case highlights innovations in local government, government digital platforms, and political parties using digital tools, with both their strengths and limitations. The Local Self-government Code has created a deliberative and a consultative body at town and city level, with some very successfull cases where cities took over municipality decision-making. The digitalisation of government information and public services is studied through the my.gov.ge and the ichange.gov.ge platforms. Finally the Girchi political party's use of a digital platform for fundraising, party primaries and direct engagement with their members sheds light on the way to strengthen representative bodies using participatory platforms.
North Macedonia
This case study shows some innovative uses of digital platforms for making policy-processes more inclusive and creating direct lines of communication between municipalities and citizens. The Green Human City platform is something between a civic tech policy crowdsourcing tool and a political party, showing how new forms of representation can place citizens in the centre of city planning. The mZaednica platform by municipalities shows that citizens have great, small ideas for improving city planning and governance, and appreciate getting their opinions heard when municipalities then take action based on these proposals.
---
Lebanon
This case study focuses on innovations within Lebanon, a country renowned for its unique political landscape. The case study looks at how organisations have used democratic innovations to cut across political divides and bring about policy changes, despite gridlocks and uncertainty. It explores several democratic innovations, each concerned with bringing about change in a different policy area – electoral integrity, electoral reform, and environmental policy. This case study shows how these innovations work and why they are relevant within Lebanon's political context, and how they actively strengthen democracy.
---
This regional case study explores how two types of democratic innovations have been implemented across Latin America, a region with a long standing tradition in using democratic innovations. The first type of innovation, multilevel policymaking involves participatory processes with at least two levels of deliberation, which can take place simultaneously or subsequently. The second type presented, participatory planning is a type of democratic innovation whose modus operandi also resembles a process, regardless of its degree of institutionalisation and it involves one or more spaces or occasions where participants get together to deliberate on policies or policy plans. These innovations are each accompanied by four short case studies that describe how they have been implemented.
The "Exploring Worldwide Democratic Innovations" project was supported by the Robert Bosch Stiftung.
Open positions
Working for democracy provides an opportunity to contribute towards shaping fair, just, and equitable societies around the world. Our network of organisations, located at the heart of Europe, is dedicated to making a positive impact on individuals' and communities' freedoms and human rights through our programmes, research, and advocacy activities.